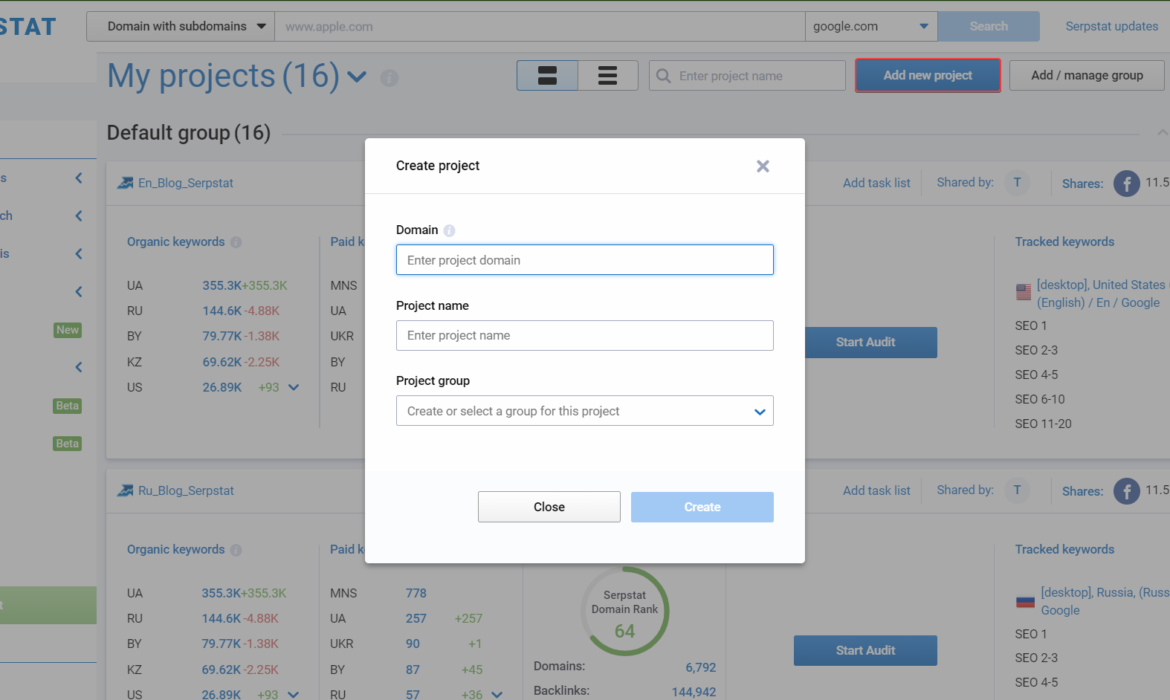 Stacy MineEditor at SerpstatThe real murder for any site is to realize that google rankings dropped. You're lucky if you don't know anything about a sudden drop in website traffic and lost keyword ranking. If you're well acquainted with these situations, you should identify the causes of the crash as quickly as possible to find out how to fix a drop in search engine traffic to the site. Let's go!
Google Rankings loss: what should you do?
If there's a suspicion that your website rankings have changed, you should find some proof. To do this, you should know how to check your site ranking —examine the following metrics:
Visibility of your website in search results. You can track this metric using several SEO tools. Serpstat calculates the added value based on the quantity and the search volume of keywords for which a particular website ranks in search.
Traffic to your website that you can track using the Google Analytics account. Particularly important for the website traffic loss audit and traffic sources.
Positions of your website by keywords. To analyze the Google rankings of your website, you can apply SEO tools that automatically track the positions for selected keywords. With such a ranking monitoring of the position, you can not only evaluate the efficiency of the SEO measures taken but also notice the sudden crash.

Check your site's positions
Preventing problems is always easier than fixing the existing ones. To avoid the sudden Google rankings loss, you should constantly monitor website ranking position. But how to fix a drop in search engine traffic to the site? Track your SEO achievements with the Rank Tracker tool.
Most SEOs collect 20-30 search queries that they think are the most important, and track locations in the search results for those queries. Nevertheless, this approach is fundamentally wrong. Relevant keywords are likely to be lost, and SEO won't get an overview of the whole situation. What is the solution to that?
When creating a project in Serpstat, you can download an unlimited number of keywords (according to your plan, of course), group them by topic, and analyze the top 100 search results. As a result, you're analyzing not only your site but also your competitors, which appear in search results for those keywords. In reports you'll get:
A position your website has for a specific keyword
Historical changes in position during the selected period
Traffic share of your website in a corresponding niche.
To begin, just create a new project: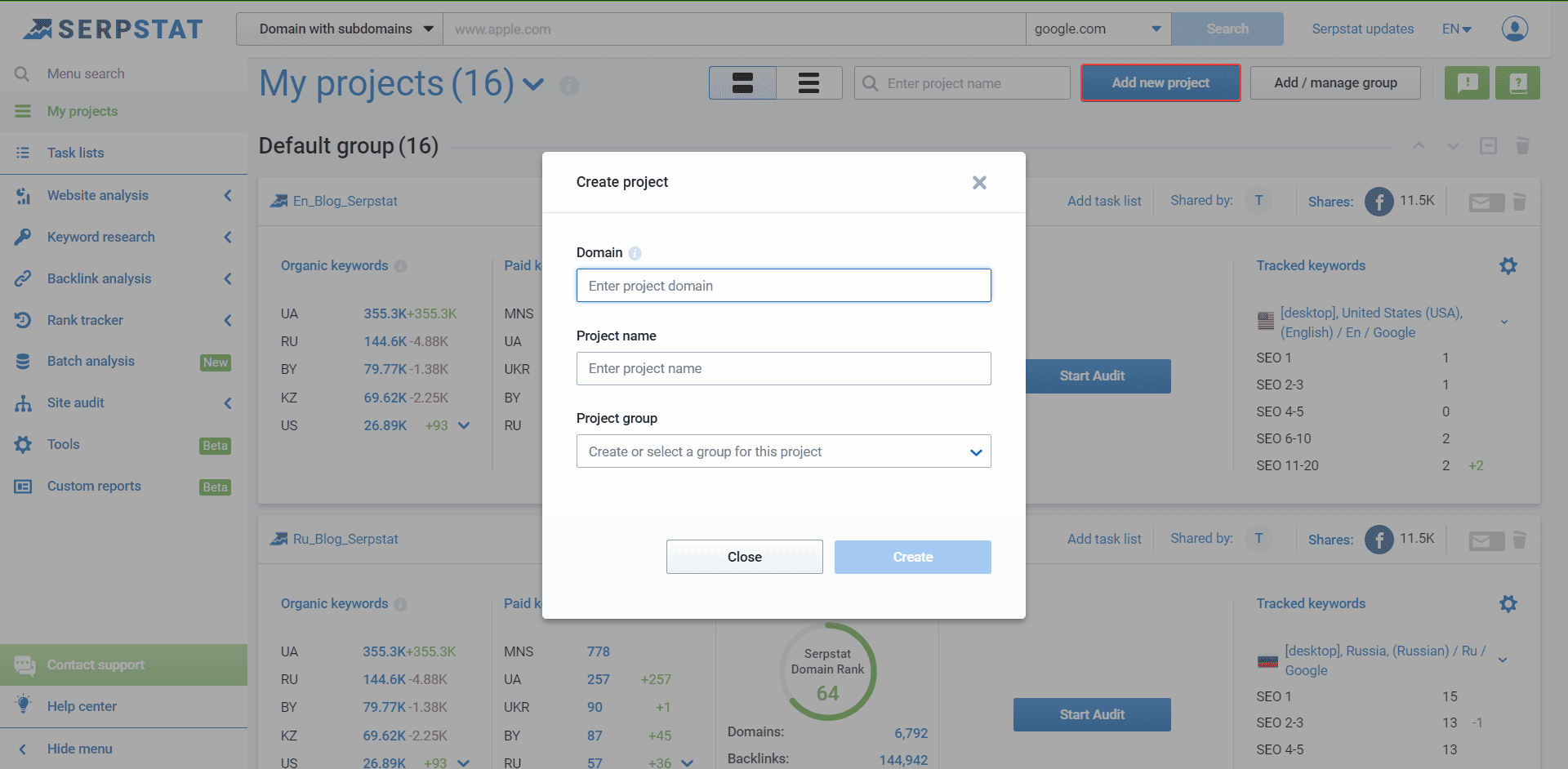 Start by selecting a search engine, mobile or desktop search, region, keywords, tags, competitors, and schedule.
Check out the report. Are the results disappointing? Then follow the second step.

Determine the severity
So, you're sure that your site lost keyword ranking. Before you start to panic, evaluate the severity of the web position google rankings loss.
Not that bad! Your website has lost Google rankings just for some keywords. This is a normal situation, which happens because of ranking fluctuations. Possible reasons for this are SEO measures and changes in the competition in the niche. Regular competitor analysis and tracking your SEO achievements are good preventive measures.
It could be worse. In this case, the Google rankings of a website for a larger number of search terms worsened. To avoid disaster, you should check the site for technical errors, carefully examine content and SEO backlinks. Otherwise, this can turn into a dangerous situation.
Dangerous. If you find that your website has not only lost a few ranking points but also has an SEO visibility loss and has been dropped out of the multiple search index, you should take countermeasures as soon as possible. In this situation, you can lose both visibility and customers. Therefore, check your website immediately for the above errors and make sure that there were no search engine updates.
Worst-case scenario. A highly dangerous situation can be seen if keywords ranking has declined in search results for a majority of keywords. In this case, it's most likely about search engine penalties or legitimate algorithm updates. The faster you find out the possible causes, the more chances your site has for recovery of your google rankings.
Would you like to learn how Serpstat can help you cope with dropped Google rankings? Leave a request, and our experts will advise you on the development of your project, share training materials, and offer test access to Serpstat! Request demo
Check the weak spot on your website
Even if the situation is very bad, don't let that upset you too much. The most important step is to determine the reasons why the SEO setup crashed. Start a website audit using an SEO audit tool and correct the mistakes found. The weak spots that can lead to the ranking deterioration are:
Of course, this is not a full list of ranking loss causes. Nevertheless, you can start with it.

The most common reasons for the Google rankings crash and possible solutions
If you find out why your website is losing track of your ranking, you can initiate the necessary countermeasures. Make the website traffic loss audit, examine your page and discover which factors cause the google rankings crash:
#1
Search engine updates
Search engines, Google, in particular, are constantly evolving their algorithms to provide users with only relevant and helpful content. Nevertheless, these updates may make search engines prefer your competitors. If Google determines that some search queries require more informative pages or special search elements such as images, videos, news, and so on, your page can no longer be considered relevant.
Google can experiment with rankings and show dynamic results so that you can see both top and bottom Google rankings pages in top results within a day.
How to figure out:
Analyze the SEO visibility loss of your website and determine if it is affected. You can do this with an SEO tool.
Another step is to examine SERPs for a specific keyword. If the search results have changed sharply, this is exactly the case. So, after a change, additional boxes will appear in Google search results. Serpstat's Rank Tracker stores SERPs, and you can track any changes in the search results.
Check if there were no messages in the Google Webmaster Blog or the corresponding blog of the other search engine. Often such updates are also announced or confirmed on official Twitter.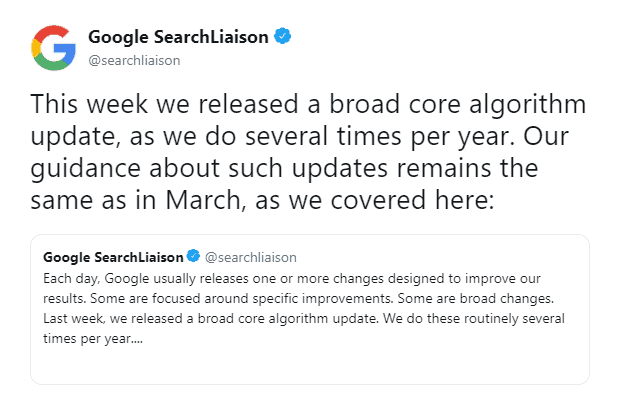 Bad website rankings may be caused by the algorithm update how to fix the drop in search engine traffic to the site:
You can't predict search engine updates, but you can react to them in time. If you see that your website doesn't meet the new requirements, you should evaluate your SEO strategy and make the appropriate changes:
create quality content that is relevant to your niche
optimize existing content for new search hits.
Penalties of search engines
If your site doesn't meet the recommendations of search engine webmasters, it may also be severely affected by penalties. There are two types of search engine penalties:
Manual penalty if your site violates Webmaster Guidelines. It's made by search engine employees in an individual case.
Automatic penalty operated by an algorithm. This punishment affects all search results as the rule changes by which web position rankings are built.
How to figure out:
In the case of a manual penalty, you'll be notified in the Search Console.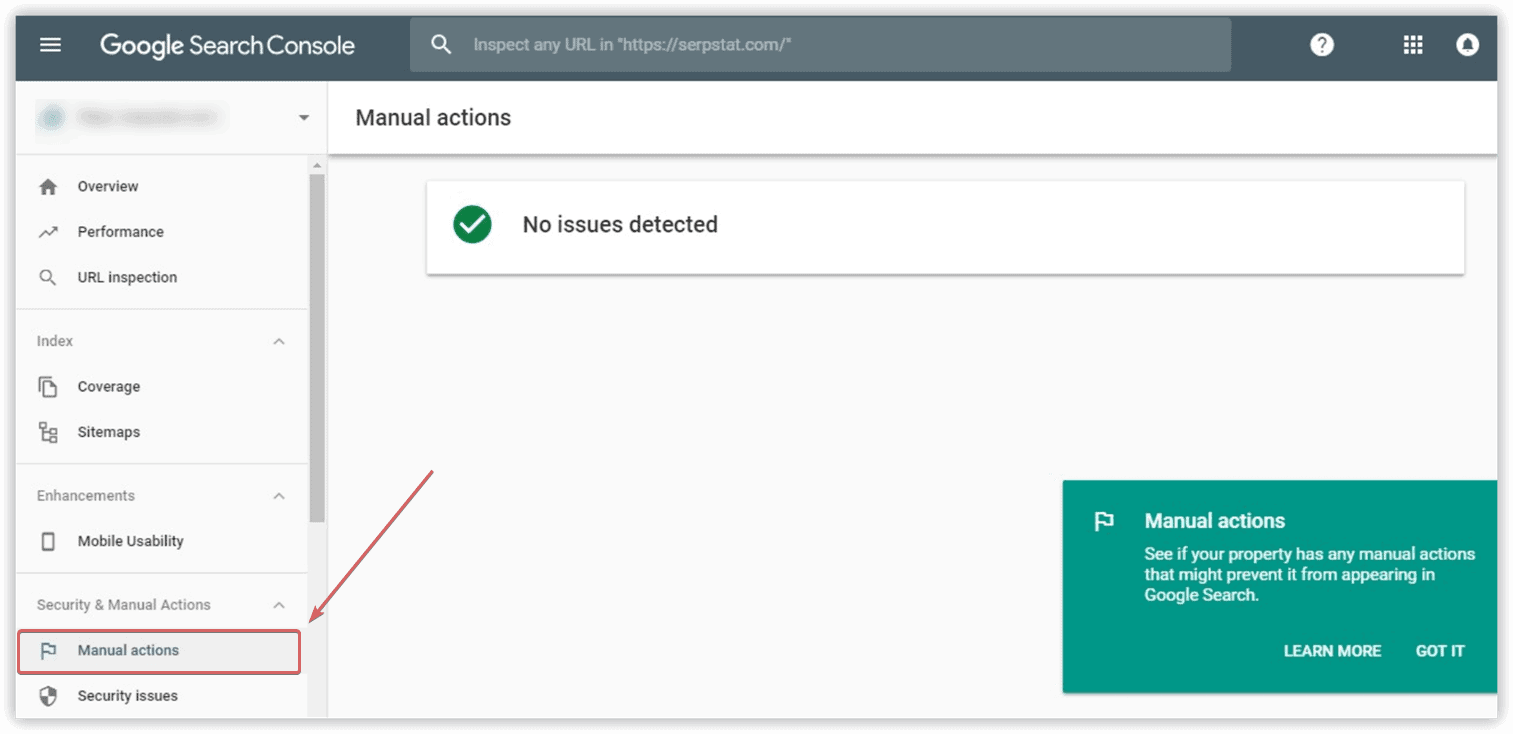 How to check your site ranking with Google Console If you haven't found such a message, you should check the following:
1. Whether organic traffic to your website hasn't changed. If the number of visitors has dropped rapidly, your website is most likely affected by an algorithmic penalty.
2. Whether your website isn't deleted from the index. To do this, enter the Google search: "site: yourdomain.com." If you see too few results or you don't see any, that's one of the signs of a Google penalty.
3. Whether there were any announcements about search engine updates that coincided with the time when the website dropped from Google rankings. The site can be penalized if you have taken some actions that are not approved by search engines. Are you sure you don't wear a black hat?
How to solve:
Determine why your site was penalized. Next, delete or correct these weak spots: pages, content, links, etc. Be prepared for the recovery to take time.
Here are the preventive measures:
Technical errors
On-page optimization of a site can be a major source of error, which can lead to a decrease in Google rankings.
How to figure out:

Your website's weak spot can be:
1. The robots.txt file. If the robots.txt file is set up incorrectly or the webmaster has accidentally prohibited the indexing of the website, this may affect the website's position.
2. Loading time. This can significantly affect behavioral factors that search engines perceive very seriously. Nobody wants to wait until a page loads forever. Slow pages are poorly valued not only by users but also by search engines through UX signals. If your website is too slow, it won't be crawled enough by Google bots.
3. Canonical tag. This line can have serious consequences and cause the page to fail the index.
4. Meta tags. If the meta tags are absent or duplicated, this is one of the reasons for the position loss. Also, check if the Title and Description properly appear in SERPs. Also, take into account the fact that these tags don't need to contain so many keywords. Otherwise, this can worsen the user signals and lead to a loss of keyword rankings.
5. Broken links. If you have invalid links on the page, this may be a bad signal. They are perceived as irrelevant to searchers because, in most cases, such pages show bad UX signals. So, find and correct all links and pages that provide 404 status code.
6. Website's structure changes. The changes in the URLs almost always lead to a Google rankings crash. In this case, you should pay particular attention to redirects to avoid both duplicate content and 404 errors.
How to solve:
Start the SEO audit and check your website for errors and weaknesses. Then correct all the issues according to the recommendations in line.
The easiest way to find the crash reasons is the website audit. Serpstat's audit option lets you find more than 50 technical errors and weaknesses on the site.
To start the check, create a project:
     After the audit you'll receive the following data:
  Want to learn how to use Serpstat to find and fix site weaknesses? Leave a request, and our experts will advise you on the development of your project, share training materials, and offer test access to Serpstat! Request demo what do the experts think about the Google rankings loss?
"This can have several reasons. Old links to the page may have been deleted, which weakens the authority of the page. Above all, the content of the page should be checked. If the users are dissatisfied and leave the page after a short time, e.g., because they didn't find anything, that's a bad sign to the search engine. The other factor can be good SEO measures of the competitors. Of course, the technical part of the website should always be kept in mind: page speed or mobile friendliness.
About a year ago, I wrote an article and answered many user questions. Added a few more links, and the article was # 1 in a couple of weeks. About six months later, the post steadily lost its visitors. As I checked this, I noticed that several competitors had published my article. I optimized mine again and added more links. Soon I was back to the top and still am. When it comes to SEO, it's important to stay tuned, continuous optimization is essential. Good luck with your google rankings!
Marcel Fees, SEO specialist at CrossfireSEO#4
Content
Duplicate or bad-quality content is unappreciated by search engines and prohibited in any way. If the search engine decides that your website offers poor-quality content, you'll lose your website rankings in the top results.
How to figure out:
Which content is of high quality? Compare your pages with competitors ones to make sure your articles cover the topic completely and are not too short. To check your content, start the website audit and text analysis. Avoid thin content! If you have only 300 characters on the page and your competitors have 3000, then don't be surprised that you have bad website rankings.
Search engines strive to ensure that users get the most relevant pages. If your content is limited to texts or hasn't been updated for a long time, then I have bad news for you.
How to solve:
To fix this problem of site crash, do the content audit and text analysis. Note that:
duplicated content and pages can lead to a penalty
the search engine can significantly crash the position of your website if it offers only dull and outdated content
the quality of the content should by no means be underestimated
your content should bring value to the readers.
"Here's my advice:
Create a good website with good content.
Insert links and pay attention to the right content and the appropriate text length for the website title and description.
Avoid duplicate content (duplicate content for the domain name and text content on your own website: check the robots.txt for crawling and .htaccess and configure them correctly if necessary.
Avoid completely identical content with third-party websites.
Perform a loading time optimization of the web pages.
Configure Google Webmaster Tools properly.
Perform link building with high-quality backlinks.
When migrating your domain, make sure that you have correct redirects regarding the link address.
It is also important to avoid 404-errors in general (otherwise you can receive Google penalty).
Google algorithm changes may also cause website traffic and rankings loss. To remain free from crashes, both the above steps and SSL encryption are recommended.
Christian R. Wrobel, SEO specialist#5
Backlinks
Are lost backlinks good or bad? Backlinks are also a source of Google rankings problems. You should bear in mind the following things while investigating the backlink profile of your website:
1. Lost backlinks. The crash of the site may be related to the fact that links referring to your website have been deleted. If they were of high quality, this could alert the situation.
2. Unnatural backlinks. If your site gains links from untrusted sites, or if they suddenly appear in huge numbers, this can get special attention from search engines.
3. A decline of a backlink profile. Sharp changes in the backlink profile are always a sign of unnatural link building, which contradicts the recommendations of the search engines.
4. Anchors. If commercial and unnatural anchors outweigh the anchor list, it is a strong sign of manipulation that is forbidden.
How to figure out:
SEO tools are irreplaceable to keep the backlinks under control. For example, you can analyze backlinks in Serpstat. In the main report, you'll find general info of the backlink profile, further information is available in sections Referring Domains and Active Backlinks.
How to solve:
Analyze the backlink profile of your website regularly, and if you notice any problems, you should rethink your link-building methods.
UX signals
User experience is also rated by search engines, and bad UX signals can significantly affect your Google rankings.
How to figure out:
If the above errors aren't detected, you should be aware of this cause. Here are some aspects that can cause bad website rankings:
1. Snippets that won't attract readers or match search engine requirements. Even if you've reached the top spots, if the CTR of your snippets is low, this is a clear sign that your site is not relevant to a search query.
2. Loading time. No one likes to wait, so your visitors can simply leave the site, sending a bad UX signal.
3. Content question. So, if you've missed the content audit, it's time to focus on the text quality.
How to solve:
Analyze the snippets of your competitors. Examine the top results and learn how your snippets can get better. How can you track snippets?
To avoid a manual analysis that takes a long time, create a project at Serpstat. The Rank Tracker option stores SERPs for selected keywords and they are available at any time. It's convenient to use this report to track the achievements of your optimization.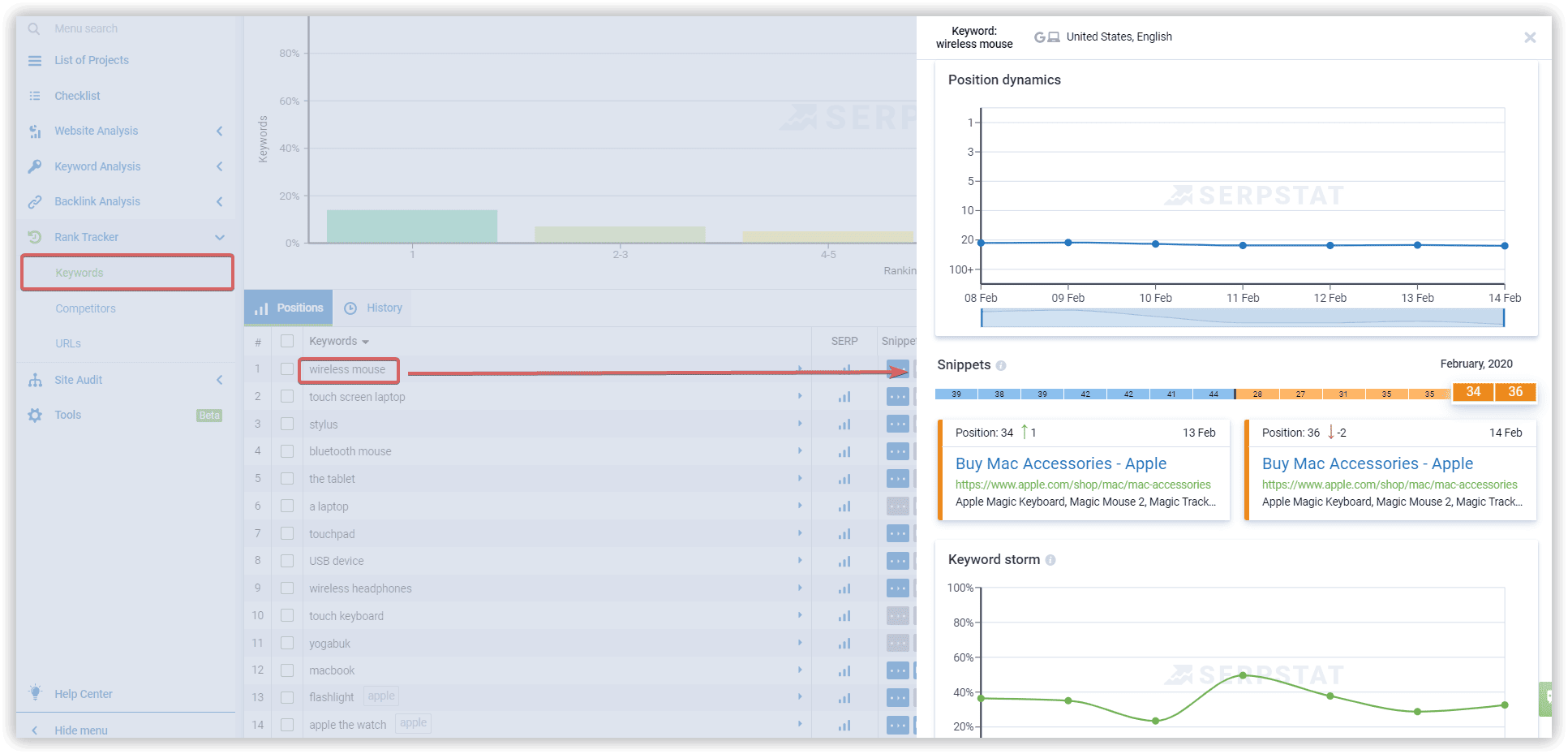 Optimize the loading time of the website. Check which errors on your website cause the long loading time.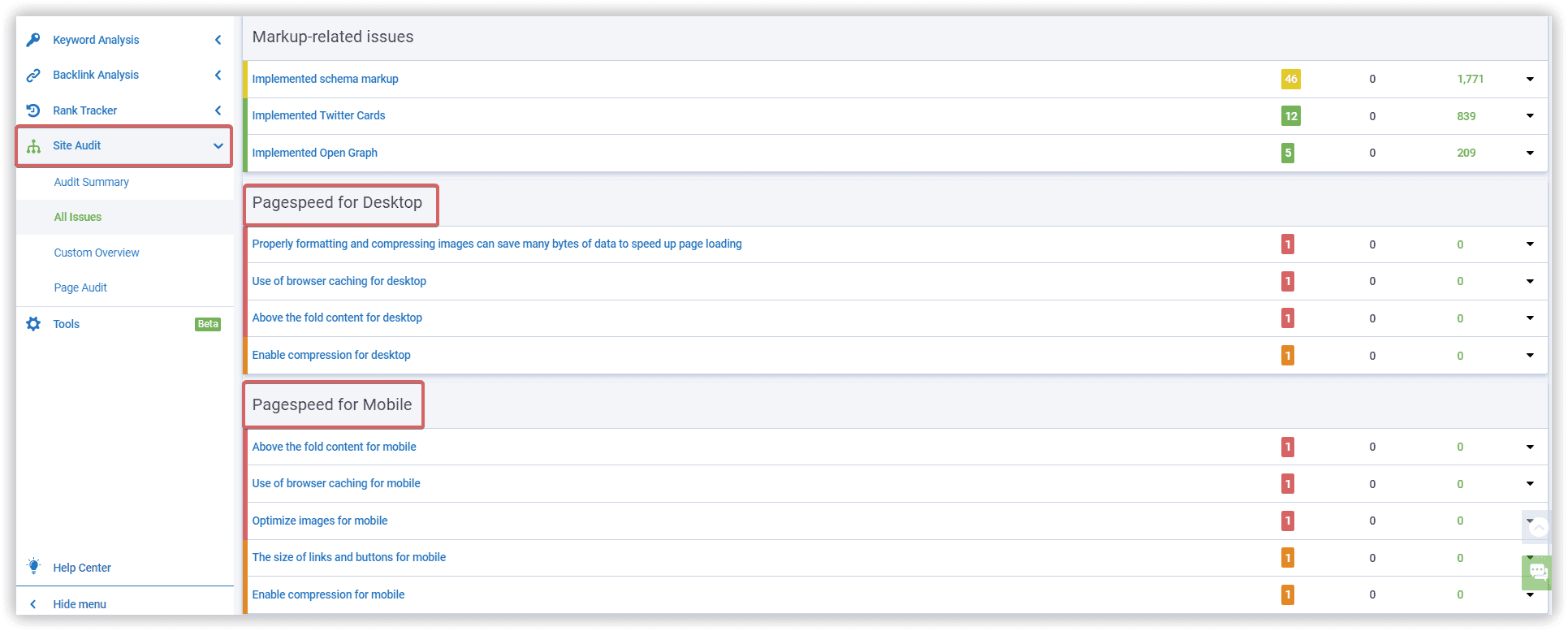 Examine your competitors to see which pages have better Google rankings for a keyword:
Competitors
SEO actions by competitors may change positions on your site because the search engine sees them as a better alternative to what you offer.
How to figure out:

One should not disregard this aspect, and therefore you should conduct a competitive analysis in time. If you see that your site has had to give way to a competitor, carefully examine your site for errors and those of your competitors to see the changes.
How to solve:

How can you track changes your competitors have? Rank Tracker is also helpful here. In the Competitor's report you'll find:
1. Traffic share of your website and websites that rank for the same keywords.

Changes in visibility within a certain period.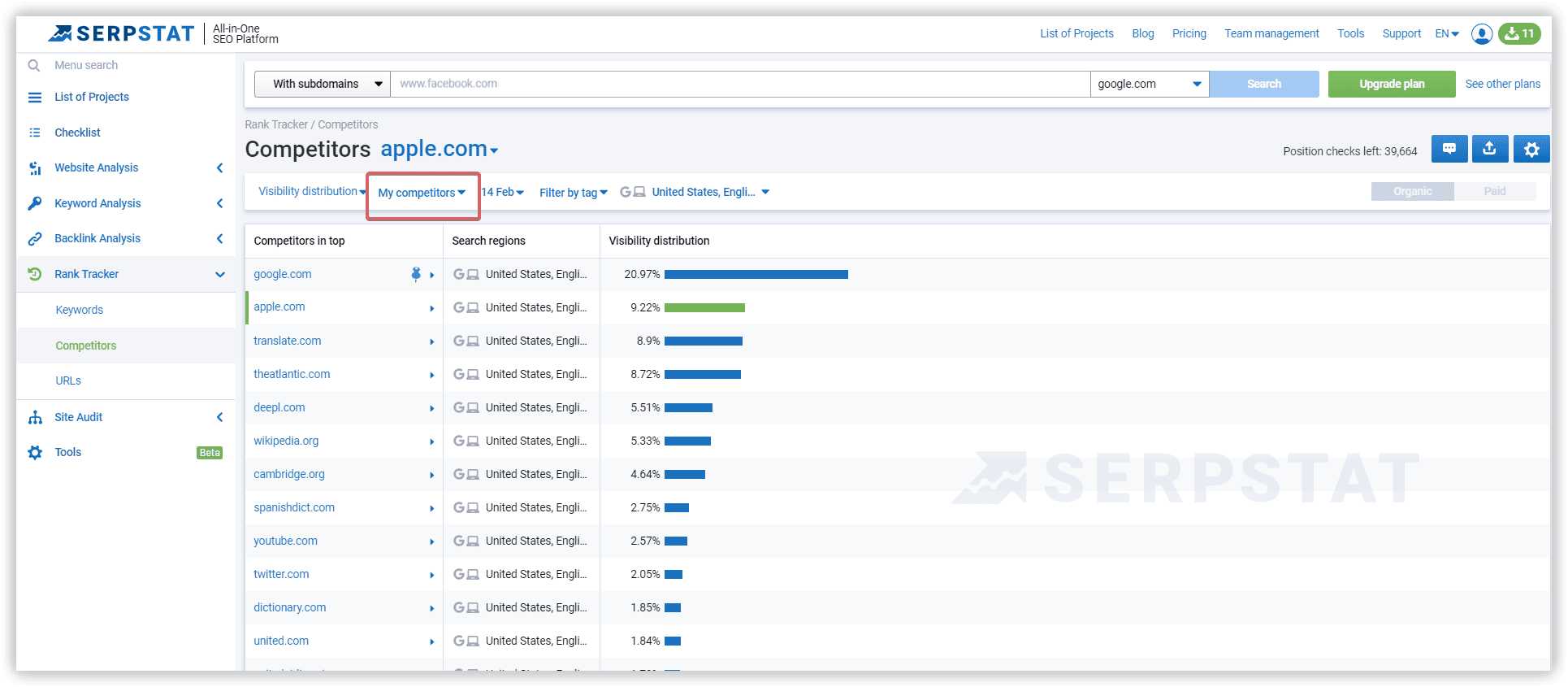 Competitors showing rising Google rankings for the maximum number of keywords in the top 100 search results.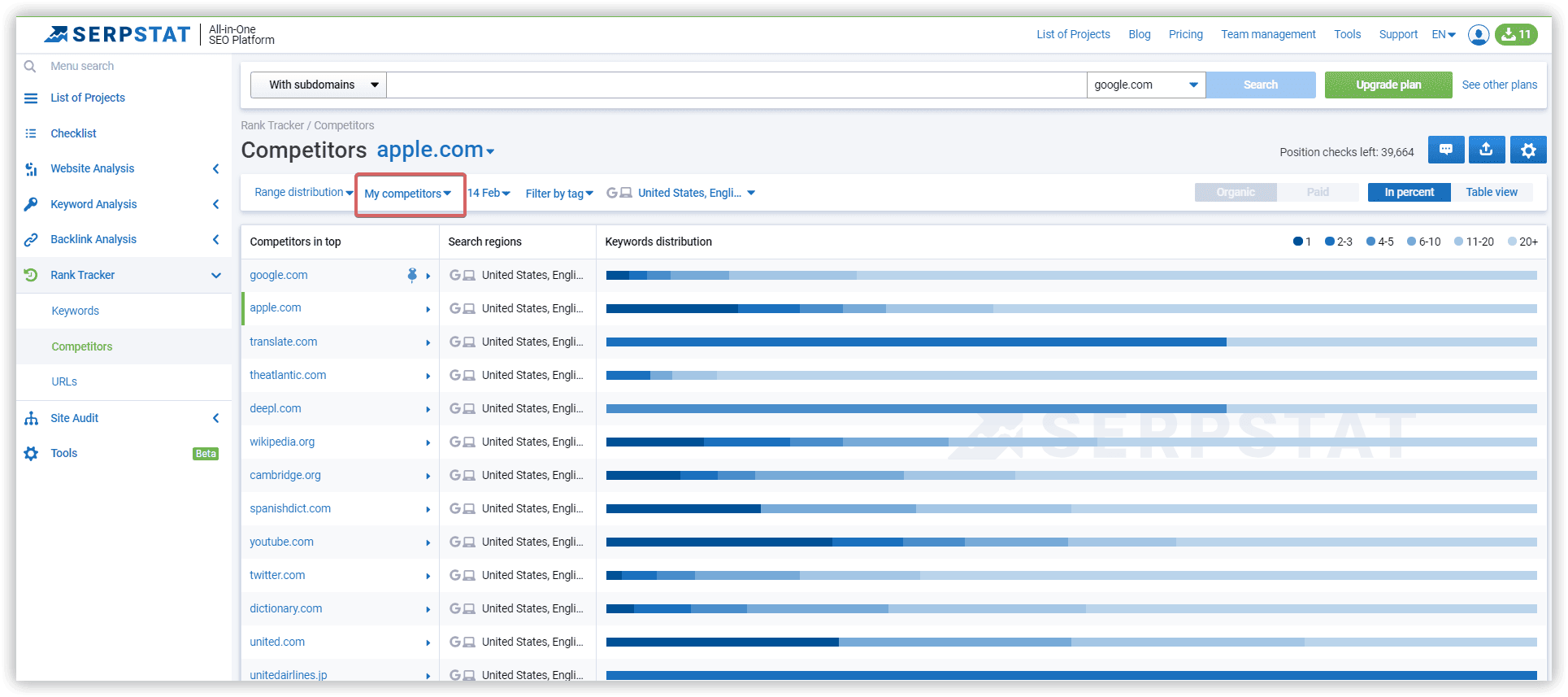 Summary
I would recommend some helpful preventive measures to avoid the Google rankings crash:
1. Regularly track your site's rankings to respond to search engine updates and fix bugs in time.
2. Run your site's SEO audit to fix technical weaknesses.
3. Control the backlink profile and rate the quality of the backlinks.
4. Create unique and diverse content that adds value to users.
5. Investigate competitors and update your website to improve the UX signals.
And what reasons do you think are the most important in Google rankings loss?
We thank all the experts who participated in the article creation and expressed their opinions on the subject!
Join us on Facebook and Twitter to follow our service updates and new blog posts 🙂